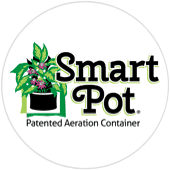 Smart Pots are fabric raised beds & containers that outperform standard containers. The sides allow air to come in, improving airflow, water drainage, and heat release properties. Simply unfold, fill with potting soil, and you're ready to grow!
We were highly doubtful of all the benefits before we started using them ourselves and testing them in our backyard! They have outperformed our plants in pots as well as plants in our traditional raised beds! We're a strong believer and use these as our primary growing spaces now in our backyard! Not only are they super easy to setup, but we can move them around when the weather is bad or we simply want to rearrange the garden.
You can plant pretty much anything in these beds including tomatoes, peppers, greens, brassicas, and herbs! We even grow trees like lemons and limes in them!
Smart Pots are available in all shapes and sizes and even some in different colors as well! See below how we use all the different sizes in our garden, and shop directly from our new online store!
3 gallon Smart Pots work really well for small indoor or outdoor plants and are easily moveable! We've also used these as temporary home for plants we plan to move into larger containers.
Great for indoor plants, flowers, greens like lettuce, kale, and spinach or herbs like basil, oregano, thyme, and chives!