Due to the COVID-19 Pandemic
Shipping May Be Delayed for Some Products
Due to the COVID-19 Pandemic
Shipping May Be Delayed for Some Products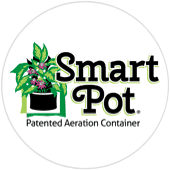 The 25 gallon Smart Pot is perfect for larger plants and even trees! 
Although these pots are quite large, they can still be moved indoors! We keep our citrus trees in these and move them indoors for the winter.
Great for tomatoes, potatoes, sweet potatoes, squash, watermelon, cucumber, and many other foods!
Shop More Smart Pots Sizes