Rice is one of the staples of our household. We buy large bags in bulk and always have a lot on hand because we go through them so much with our large family! It's easy to get burned out on rice, especially if you are making it the same way every day. The great thing about having a garden full of herbs is that you can make this recipe unique every single time you make it! We grow a lot of our own herbs to use in the kitchen right in our backyard and patio. You can as well! It's easy to do- especially with our free From Seed to Spoon app which will walk you through how to start growing all the way from seed to your spoon in the kitchen!
Our favorite garden herbs to pair with rice include cilantro, oregano, basil, sage, rosemary, thyme, curry, or cumin. You can also add in some onions, garlic, and lime as well! If you want a spicy kick to your rice, try adding some peppers to saute with your onions and garlic! The possibilities are practically endless! One of our favorite combinations is a cilantro-lime rice with onions and garlic! Try your favorites and different combinations of the above to find your favorite tasting rice!
You can also make a pesto to add to a basic rice recipe. This will make any rice taste absolutely amazing and add lots of flavor and nutrients to your meal!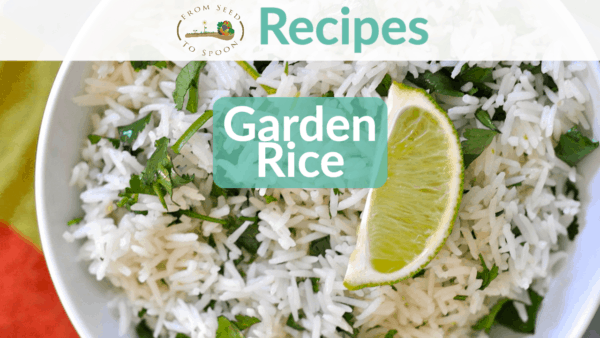 | | |
| --- | --- |
| | |
Rinse rice in cool water until clear or soak for up to an hour (optional).

Heat olive oil in saucepan on medium heat.

Saute onions and garlic until transparent. Add rice and any other desired herbs from your garden and stir.

Add chicken bone broth (see below how to make this yourself!!) and cover to let simmer.

Check in on your rice in about 15 minutes to see if ready! You will know it is ready when there is no broth left at the bottom of your pan.

Enjoy!! We like to pair this with our dried beans that we make in the instant pot and some chicken (see links below for recipes!)