Micro-greens are an incredibly easy and effective way to add a lot of nutrients into your diet. They're easy to grow and can be grown under lights indoors in the winter! Learn all about how to start growing microgreens below!
Check out the video below to see how we start our microgreens indoors!
What are microgreens?
Micro-greens are essentially just "baby" plants that you harvest at an early stage. They've become immensely popular over the past decade as a "superfood" containing more nutrients than the mature versions of the plant. Microgreens typically reach the harvest stage 10-14 days after the seeds sprout.
Incredibly nutritious
Researchers at the USDA Agricultural Research Service have published several studies that identify the nutritional value of microgreens. Twenty-five varieties were tested, key nutrients measured were ascorbic acid (vitamin C), tocopherols (vitamin E), phylloquinone (vitamin K), and beta-carotene (a vitamin A precursor), plus other related carotenoids in the cotyledons.
Among the 25 microgreens tested, red cabbage, cilantro, garnet amaranth, and green daikon radish had the highest concentrations of vitamin C, carotenoids, vitamin K, and vitamin E. In general, microgreens contained considerably higher levels of vitamins and carotenoids—about five times greater—than their mature plant counterparts!
How to Grow
Although they can be grown outdoors in nice weather, we grow our microgreens indoors throughout the entire year. Getting started is super simple!
Materials needed:
1. Prepare seed starting mix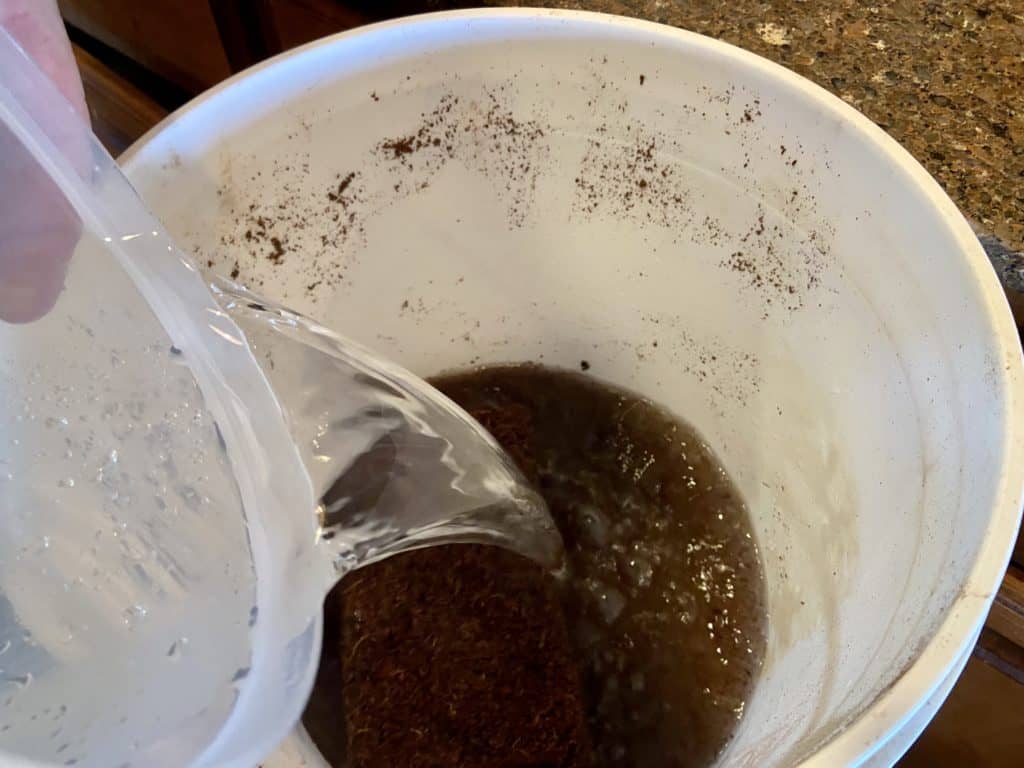 Make sure your seed starting mix is fully saturated. We mix ours in a 5 gallon bucket with water until it feels damp throughout.
We've tried every brand of seed starting mix that we've come across and we've really come to love these Burpee seed starting bricks. They expand really quickly and I really like the texture of the growing medium.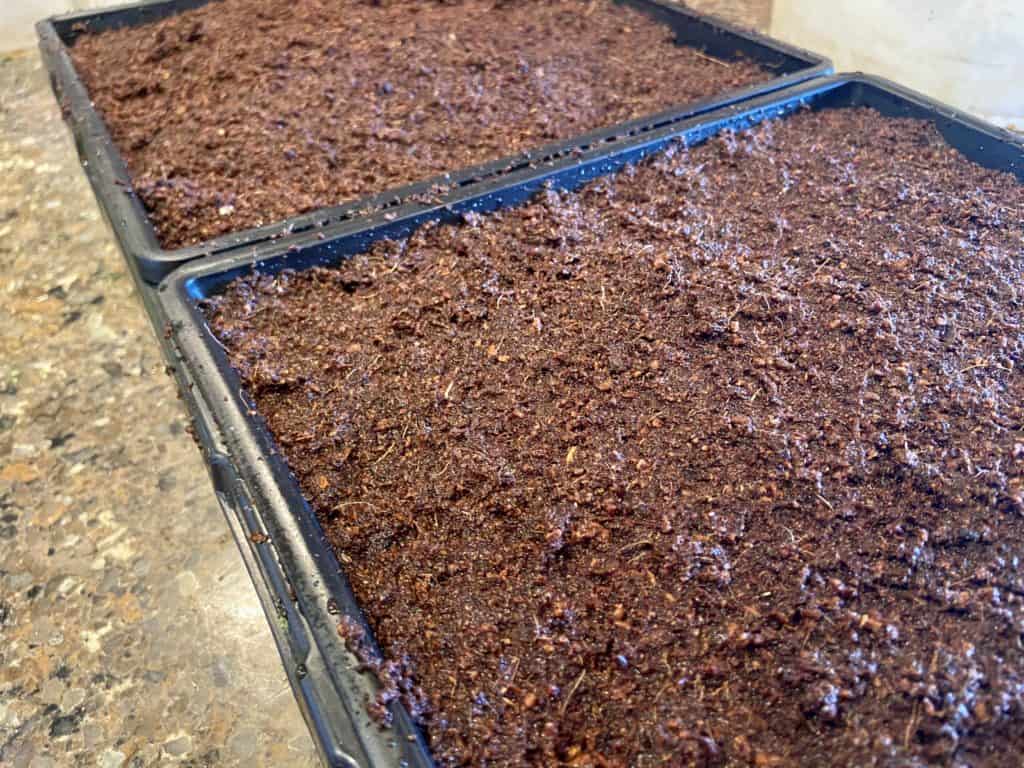 Fill 10×10 trays with seed starting mix. Place 10×10 trays inside 10×20 tray and add 1-2" of water to bottom
Although you can find cheap trays anywhere, we really like using these heavy duty trays from Boot Strap Farmer. They are a cut above anything else we have found and I'm confident that they will last us a very long time! Check out our blog post on seed starting for more details.
3. Sprinkle seeds everywhere!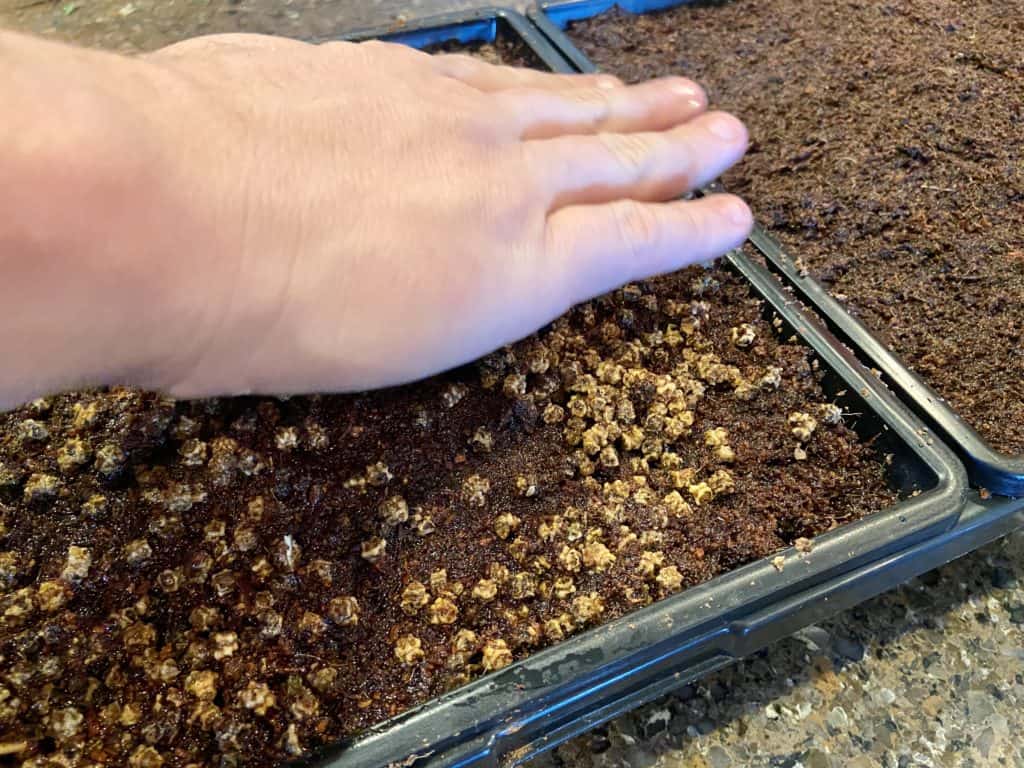 Sprinkle seeds generously so that there's basically a blanket of seeds on top and water thoroughly.
We buy our microgreen seeds in bulk from a variety of sources including local nurseries, Amazon, and other online seed suppliers. 
4. Place under grow lights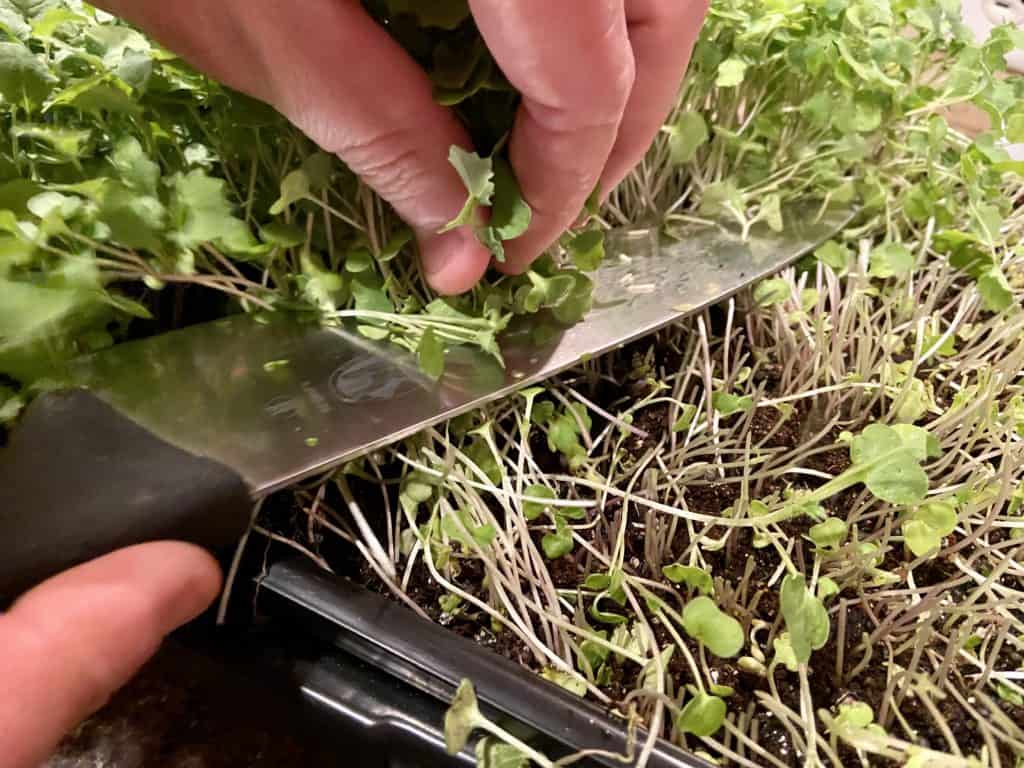 You can harvest most microgreens once they've produced their first set of real leaves. This is usually about 2-3 weeks after planting depending on what seeds you planted. 
We use the sharpest knife we have to harvest them so that we don't have to deal with cleaning off the growing medium. 
Check out all the details about our DIY seed starting station in the video below!