I was shocked to find out that making pizza dough could be this simple and end up tasting this incredible!
I try to plan ahead for my meals, but too often I find myself searching at the last minute trying to find something to feed our large family. Instead of going out to eat and spending at least $50 for all of us, I can simply make this pizza and it is a huge hit for all! Since it is so fast and easy, I can make it at the last minute too. This is also one of my favorite dinners to make when we have company over since it is easy to make for a large number.
I've had friends ask me for the recipe for a while, so without further ado, here are the super simple steps for making your own pizza dough!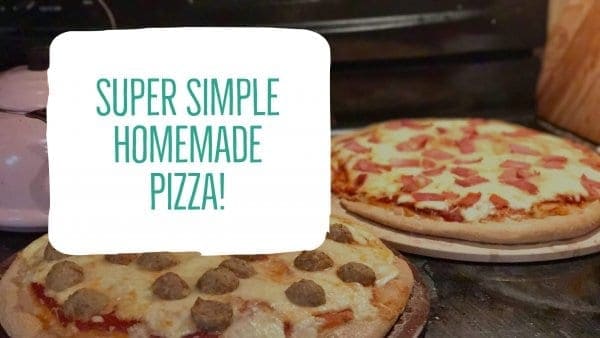 | | |
| --- | --- |
| | |
Preheat oven to 350°F with pizza stone in oven.

Combine yeast and warm water into mixing bowl. Let sit for a few minutes until it looks "foamy".

Add in sugar, salt, and olive oil. Add flour 1 cup at a time while mixing with dough hook on low. 

Knead until all ingredients mixed and dough is not sticky. 

Roll dough into a ball and place on stove in mixing bowl with a kitchen towel on top. 

Let rise for 5-10 minutes. (During this time, I typically grate my cheese, start my pizza sauce, and collect all the other ingredients). 

Divide dough in half and roll out each half on a floured surface into a circle. 

Place on preheated pizza stone or cookie sheet with cornmeal sprinkled. Push down areas for the crust to form. Then put the pizza together to your liking! We normally add tomato sauce, cheese, veggies, and sometimes meat.

Depending on size and toppings, bake between 12-18 minutes. 

If desired, melt butter with garlic and drizzle on crust to make a garlic crust. 
If you don't already have a pizza stone, I recommend checking them out! This is the best way that we have found to make our pizzas! They cook the pizza evenly and make the crust taste amazing! https://amzn.to/2TCqTuV