Happy November! November is a month for feasting, and what better way to celebrate the holidays and give thanks than to eat what you've grown in your garden!
Hopefully, you've already harvested your sweet potatoes from the garden and have them stored in your pantry. The classic Thanksgiving dish, sweet potatoes, are a great addition to any meal this season! Impress all your relatives by making a Thanksgiving dish with food grown directly from your garden!
One of our favorite side dishes including sweet potatoes is a combination of our homegrown sweet potatoes and carrots sauteed in butter, then roasted in the oven. Try topping them with some herbs from the garden to make it taste unique each time! Our favorite herbs to use this time of year are oregano, thyme, and rosemary. Not only do they make dishes taste great, but they also add a lot of nutritional value as well! 
Check out the details on this recipe on our website or check out the "More" section in our free app while looking at sweet potatoes! You can download our app on iOS or Android by searching for "From Seed to Spoon" in the app store, and you can find the download links at www.seedtospoon.net
Unfortunately, the cool season commonly brings in sickness as well. Our free app highlights health benefits for each of the plants and shows which ones are best when trying to boost your immune system! Try out one of our many soup recipes that include many herbs and vegetables from the garden! See the details on our website at seedtospoon.net or in the "more" section under each plant in our free app!
We aren't really starting anything new outdoors in our garden right now, but we have plenty of plants that will survive the winter unprotected. Spinach and kale will start going dormant, but they will come back strong in early spring. Herbs such as rosemary, oregano, and thyme will continue to produce until we're consistently below freezing. During this cool season, we're also taking advantage of our indoor growing space! If you have extra room in your house, check out how to build your own DIY 4-rack seed starting system with grow lights like ours that we built for less than $100! We show all the details on how we built it on our YouTube channel: www.youtube.com/fromseedtospoon.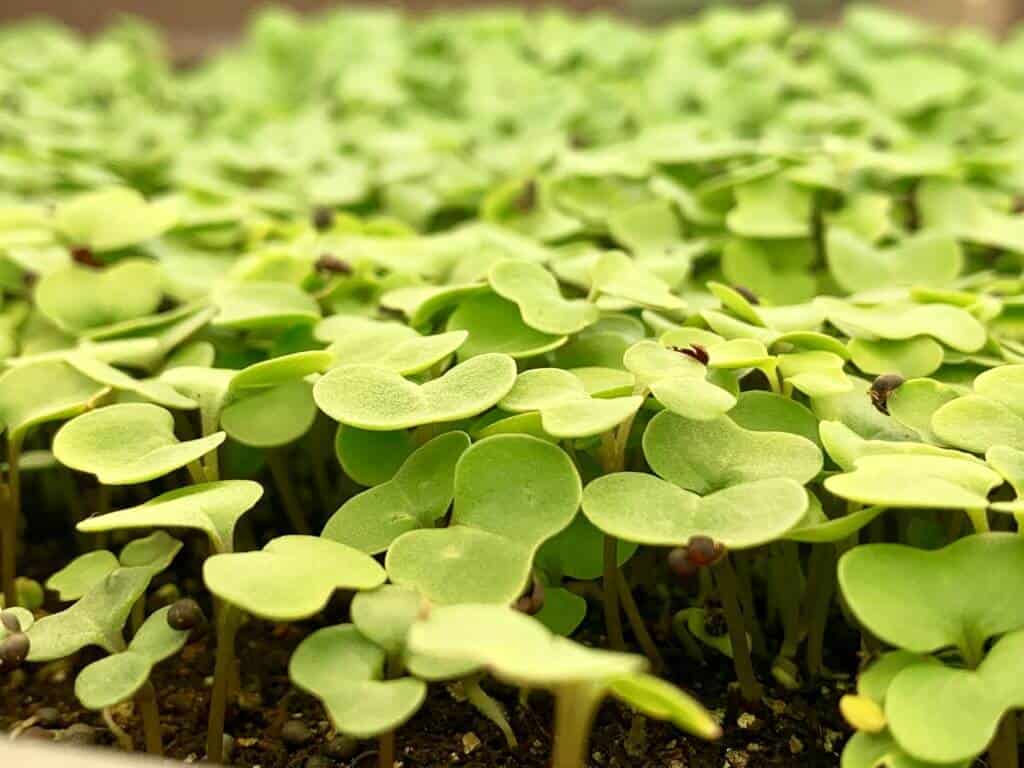 November is a perfect time to grow microgreens indoors! Microgreens are densely planted seedlings from plants such as broccoli, cabbage, arugula, and kale that are harvested after a week or two. Growing them this way allows you to get the highest amount of nutrients possible from the plant in a tiny dose! You don't need a large space inside to grow these super-nutritious greens. In fact, you can grow them in an empty salad container next to a south-facing window if you don't have any grow lights. We add these microgreens into a variety of different dishes including burritos, wraps, scrambled eggs, etc. The possibilities are endless, and the benefits are incredible!
We hope you have a fantastic holiday season! Happy growing, and don't forget to download our free app to start planning your 2020 spring garden! It'll be time to start our seeds for spring before you know it, and you can use our app to research planting dates, varieties, and plan ahead for success!