When I first heard about people making bread, I thought they were crazy! Why go through so much work when you can simply buy a loaf at the grocery store?! Once you make a loaf for yourself, you will completely understand why I have made my own bread for the last couple years and will not buy from the store! The difference is truly amazing! When I make this bread I have to make two loaves since an entire loaf is gone in a day because everyone loves it so much! Once I got a stand mixer, making it became even easier by minimizing mixing time. I hope you will enjoy this recipe as much as our entire family has!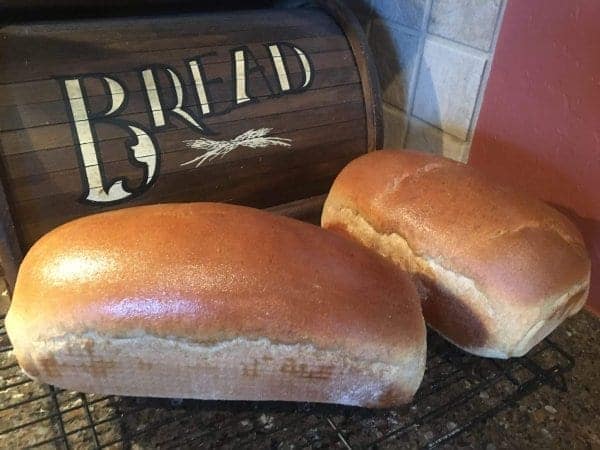 | | |
| --- | --- |
| | |
Heat milk and water mixture to 110° F

Combine instant yeast and milk/water together in stand mixer bowl (using dough blade). Let stand approx 5 minutes until slightly foamy looking.

Add melted butter, honey, and salt into mixture.

Start adding flour in while mixing until dough is smooth and not too sticky.

Preheat oven to 200° F and turn off. Place dough into oiled bowl (rotate once to cover with oil) and cover with towel. Place bowl inside warmed oven and let rise for 40 minutes.

Divide dough in half and roll out on floured surface

Pinch sides to fit pan. Place dough into oiled bread pans.

Place bread pans inside oven covered with towel for 20 minutes to rise

Uncover pans and set oven to 350° F. Place a bowl of hot water underneath pans. Bake for 40 minutes

Pull pans out of oven. Spread melted butter on top of the loaves.

Ready to enjoy! 🙂 I place the loaves in a canvas bag in our bread box to keep fresh.
Note: Although this recipe can certainly be made without a stand mixer, we've found ours to be a valuable part of our kitchen and it saves us a ton of time. We highly recommend buying one if you do a lot of home-cooking!
Credit: This recipe was inspired by the recipe from the Brown Eyed Baker for American Sandwich Bread.