Update: Check out everything we've added in the past year!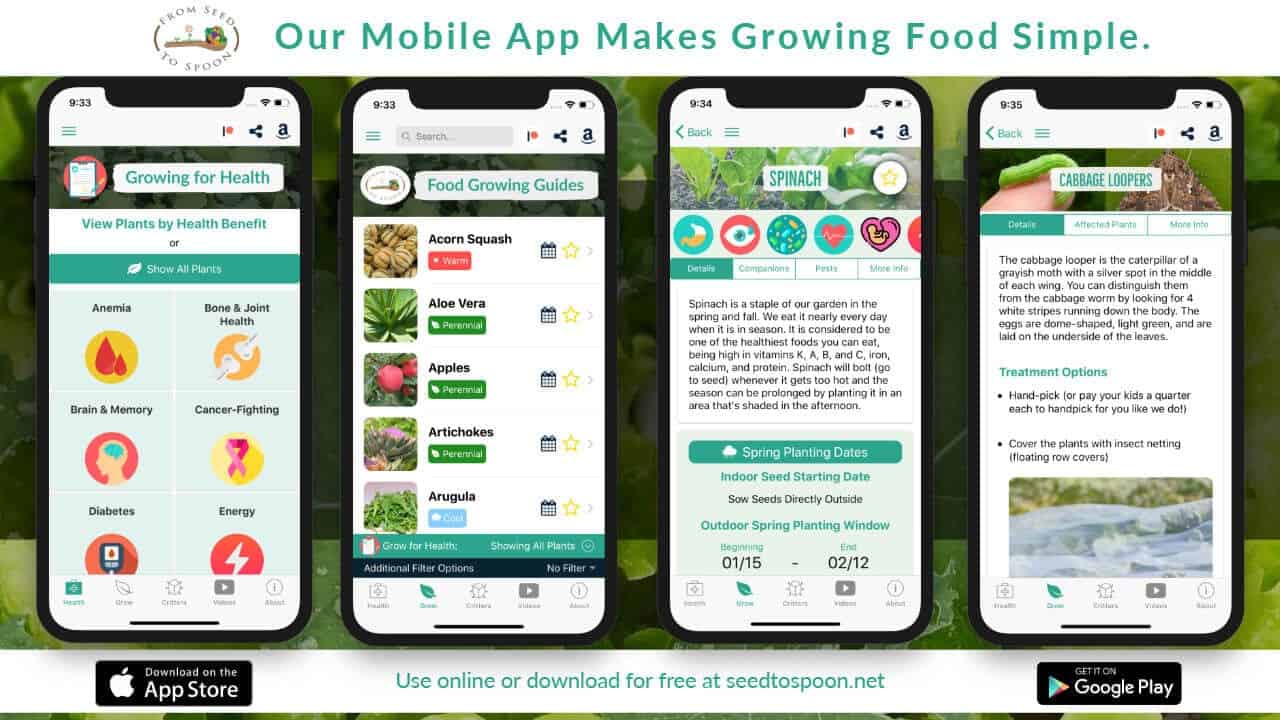 Do you want to grow food, but you aren't sure how? Have you tried growing food in the past, but never could keep track of what to plant, when to plant it, and how to take care of it? Did insects ruin your garden, and you weren't sure what to do about it, or how to stop it without spraying poisons? If so, look no further. Our new free iOS and Android app was built just for you and other gardeners and food producers out there!
We're proud to announce that the first version of our mobile app that helps you grow food and manage pests is now available for FREE in the iTunes App Store and the Google Play Store! This first release will allow you to learn about how to grow, harvest, and prepare over 40 different foods! You can also search through a list of common pests and learn about how to defeat them!
Our mobile app guides you through planting, growing, harvesting, and preparing 40+ vegetables and herbs with much more coming soon. We'll guide you through all aspects of growing as well as help you plan out your garden by providing information about which companion plants grow best next to each plant. You can also view which pests attack each plant and read about how to deal with them organically!
This is just the beginning for us. We have a lot of big ideas about how we can help make the food growing process easier for anyone that wants to grow. We're excited to release our first version and would love to hear any feedback you have on how we can make things better!



Why is it free?
Our goal has always been to make an impact on the world by helping people learn how to garden on their own. Charging for this app would add a barrier between you and the help. Thanks to your generosity, supporting us by visiting our site, downloading, reviewing, and sharing our app, and using our Amazon affiliate links, we do not have to charge, so we are not going to!
About Us
Hi, we're Dale and Carrie Spoonemore, the creators of "From Seed to Spoon." After two years of research and trial and error, we have learned quite a bit about growing a sustainable food garden in our urban Oklahoman backyard. Now we're here to help you with your own gardening journey by showing you what we learned!
We decided in spring of 2015 that we wanted to try growing most of the vegetables our family of six would eat. Neither of us had much previous experience growing food, and needless to say, we had a lot to learn. We started with a typical Oklahoma Bermuda grass lawn, and over the course of two years, we converted it into an urban backyard food farm. I spent nearly all of my free time over the course of those two years reading books, attending classes, and watching YouTube videos to learn all I could about gardening and growing food.
We remember how lost and overwhelmed we felt when we first started, and now we want to share what we've learned in hopes of helping others grow food for themselves as well! Growing your own food doesn't have to be difficult and we're here to help you grow food efficiently, economically, and sustainably!