We love using the Seeding Square to plant many of our seeds, especially beans and other plants that we plant very dense.
Check out this video of our kids in action to see how they use it!
Learn more about growing over 100 different foods, including how to manage various pests in our FREE iOS, Android, or new Universal Web App!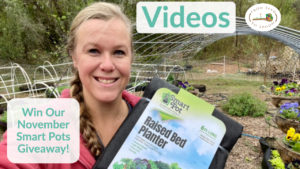 We are hosting a November Giveaway!!! This November we have teamed up with Smart Pots to giveaway a 6ft Long Bed to a lucky YouTube subscriber!
Read More »