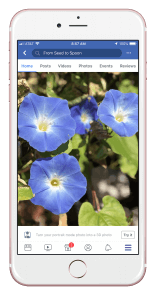 We've had so many people reach out to us about how we made our 3D garden pictures on Facebook! The first time that I saw this on Facebook I freaked out because it just looked so amazing and so real! I just had to figure out how to do this for myself. I was shocked to find out just how easy it was!
The simple steps that you need to do to start posting your own 3D garden pictures are:
Go to post a new picture on your status. Select the new option that will show up as "3D Photo".
All your applicable portrait photos will show up and all you need to do now is click and watch in amazement as your pictures come alive! ?
We hope to see some of your beautiful 3D garden pictures in our facebook group, Grow Food! How to Grow Fruits, Vegetables & Herbs – From Seed to Spoon!