Hey everyone! It's been a whirlwind around here this past month! We wanted to stop for a second to update you all in a couple of developments. First off, let's talk about Garden+, our garden tracking system we released as a free preview this month. In less than 3 weeks, over 25,000 people have logged plants in their garden using Garden +! The response we've received has been overwhelming and we've been encouraged by the flood of support, ideas, and feedback! We've received more emails than we can keep up with and have a clear understanding of what we need to do with Garden + moving forward.
Today, Garden+ will replace your gardening journal allowing you to log your plants, record events, and capture notes for your plants. This is a great solution for experienced gardeners, but we've heard from a number of you that are just starting out about how we can make it easier for beginners. Upcoming features meant to help beginners include notifications when it's time to plant, water, fertilize, or protect from the weather.
Custom Plants
Probably the most popular request thus far is for the ability to add your own plants. We are excited to say that code is literally being written for this right now and we will have this feature available for the full release of Garden + coming soon!
New Plants Coming
We've also received a ton of requests for new plants you'd like to see added into the app. Carrie is the main person that enters new plants and she's been swamped with her day job teaching nursing, but will have lots of time to catch up on your requests next week when school is out. Some of you have sent in some pretty detailed growing information with your plant requests and that has been incredibly helpful for us!
Fixing Issues on Flaky Internet Connections
There haven't been reports of very many bugs in Garden+, but there definitely has been a pattern of issues that occur whenever your phone is right on the fringe of an internet connection (which tends to happen if you're out in your garden and your phone is still trying to use the WiFi in your house). We've had some pretty intense coding sessions working to restructure the app to solve this problem and you'll see those changes rolling out in updates over the coming weeks. We've also monitored the developer error reports that we've seen and have fixed a number of underlying issues.
Calendar Features
We've also had many requests for calendar features and that is high on our list of things we're going to add next. 
Mapping / Garden Layout
The last popular request that we've had has been for a visual garden planner where you can draw your Gardena and lay it out. This has been the vision and the goal for From Seed to Spoon since we've been learning how to code. We have begun working on prototypes and have done enough to firmly understand that it's more than we can do on our limited schedules right now.
How Much Will Garden+ Be?
Right now all of us have full time jobs outside of From Seed to Spoon. We work on this project on late at night after our kids go to bed and spend much of our weekends working on all this. In order for us to be able to expand and build all of the features we'd like, we're going to need to be able to hire additional help. Developers aren't cheap and this app has been free since release so something has got to give in order for us to truly build what you all want. This is one of the reasons Garden+ will become a paid feature later on this season. We also have an increasingly staggering amount of server costs and other costs associated with running this whole operation. Rest assured Garden+ is going to be reasonably priced and will be a small monthly fee less than a packet of seeds. We will also have options to pay seasonally or yearly at discounted rates. If you decide that you don't want to continue on with Garden+ after the free trial is over that is fine as well! You will always continue to be able to see all the plants that you logged into your garden during this trial run and you will always have the rest of the app for free!
We remain passionate about this project and committed to our mission of making it easy for anyone to grow food. Thank you to everyone that has taken the time to email us your feedback, ideas, stories, and encouragement. I read every single email and wish it was possible for me to reply to all of them. We started learning how to code and building this app in July of 2017 and never dreamed it would turn into what it's become! Over 250,000 people have downloaded the app and that's largely because of each and every one of you that has shared the app with a friend, left a review, and supported us along the way! Please continue to send us your feedback and I assure you I will continue to read all of them!
Thanks,

Dale Spoonemore
Founder & Co-Creator
From Seed to Spoon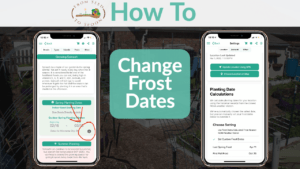 Our app will automatically calculate your planting dates based on your GPS location by pulling information from your nearest weather station and predicting the last frost.
Read More »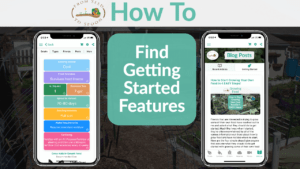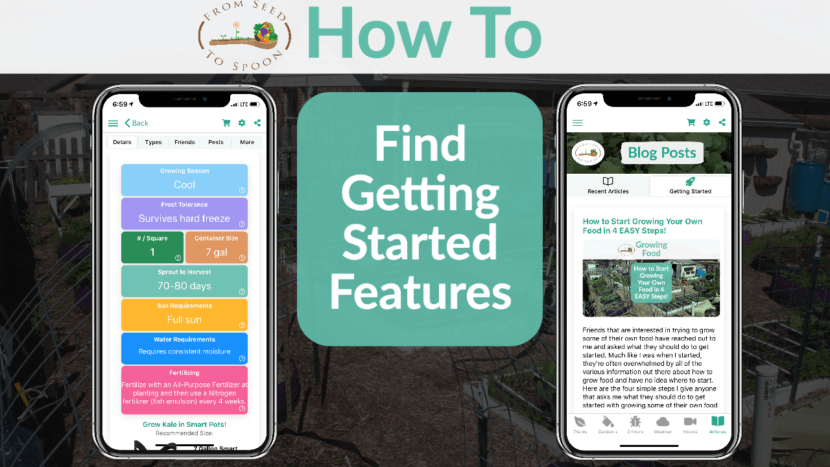 We just released an update to our free iOS & Android app that adds more information for people just starting out with growing food!
Read More »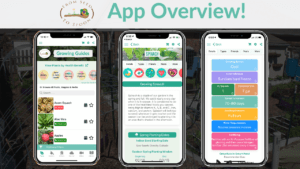 This video is an overview of how our app makes it easy for you to grow your own food!
Read More »